Queasy Products for Nausea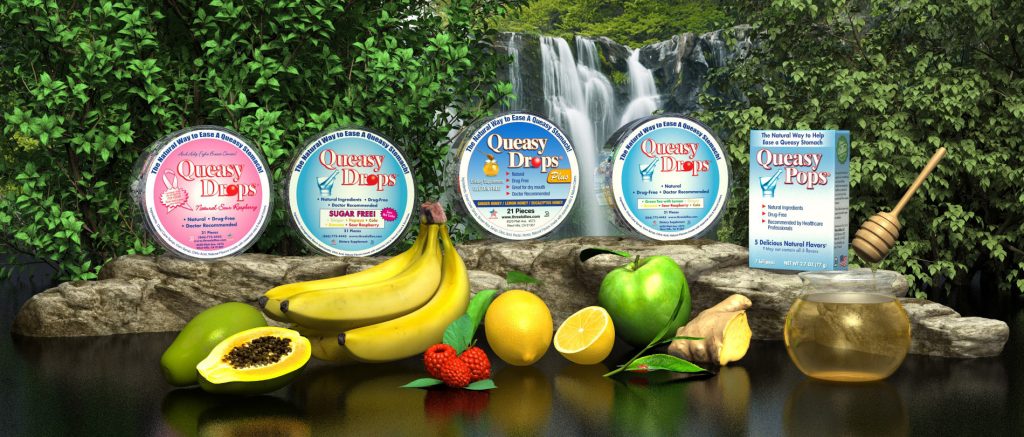 What's in Queasy Drops?
Our Queasy products relieve nausea from motion sickness, travel sickness, and chemotherapy. They are completely natural, drug free, and 100% safe for kids, adults, and pregnant moms. Each piece is individually wrapped to stay fresh wherever you go. With Sugar-Free varieties, Queasy Products are made to fit in to your lifestyle.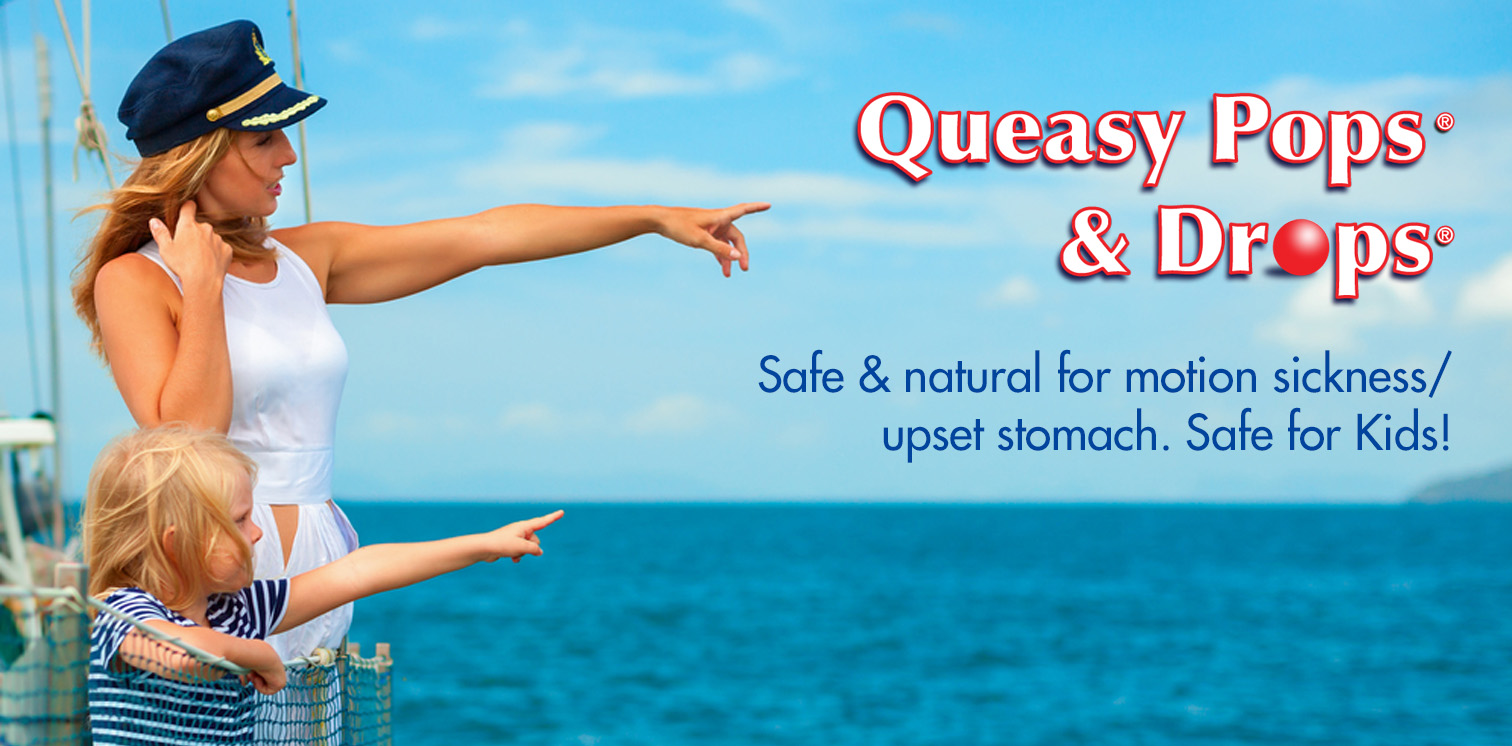 Have motion sickness? Traveling? Chronic nausea? Undergoing chemotherapy? Post-surgery anesthesia? Queasy Drops and Pops and designed to ease your nausea – fast. Developed as a all natural nausea relief solution for moe than just morning sickness, our Queasy line can help ease your nausea from a wide range of sources. With Queasy Drops in your pocket, you won't have to worry about unwanted side effects ruining your next trip or chemo appointment.
Queasy Drops are a unique and indispensable care package gift and can be shipped all across the U.S. Get your loved ones a fantastic get well gift, or the perfect accompaniment for the traveler in your life. They're perfect for carrying in your bag as a fast, on-the-go solution for feeling sick. So grab a box to share at your next chemo appointment or boat ride and make some new friends with the nausea easing power of Queasy products.
Our Queasy Line
Our natural queasy line of products includes Queasy Pops and Queasy Drops in a variety of packages and flavors.
Queasy Pops in 5 Flavors
Queasy Drops in 5 Flavors
Queasy Drops Plus in 3 Flavors
Sugar Free Drops in 5 Flavors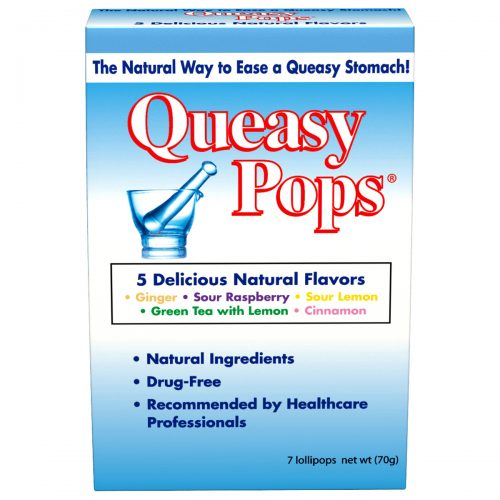 More Information
Our Queasy Drops are created and recommended by healthcare professionals.
Natural
Drug Free
Multiple Flavors
New Queasy Products
Queasy Naturals
Queasy Naturals is a great way to alleviate nausea and motion sickness with the power of all natural ginger.
Ginger, a popular spice, shows particular promise in treating gastrointestinal (GI) conditions such as nausea and vomiting, making it a great natural remedy for issues related to stomach upset including morning sickness. Our Queasy Naturals contain 1000 mg of ginger per serving.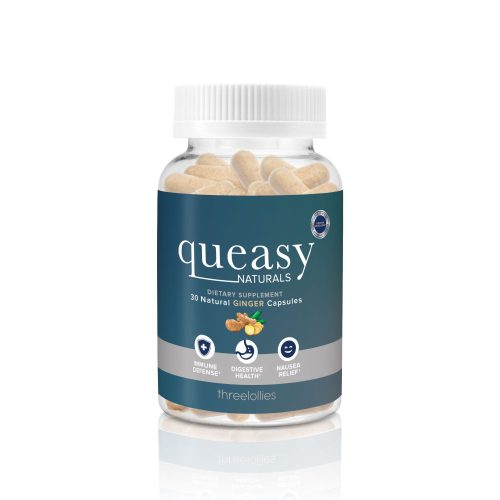 Sweet! A Sugar-Free Version
The same nausea easing power, but now without the sugar! Try our great natural flavors: Ginger, Papaya, Natural Cola, Banana, Sour Raspberry. Healthier doesn't have to mean tasteless. That's why we strive to make our Sugar-Free Queasy Drops with the same flavor you have come to expect from Three Lollies.
Queasy Drops Sugar Free are the natural way to ease a queasy stomach. Queasy Drops Sugar Free are effective due to our special formulation and a unique delivery method.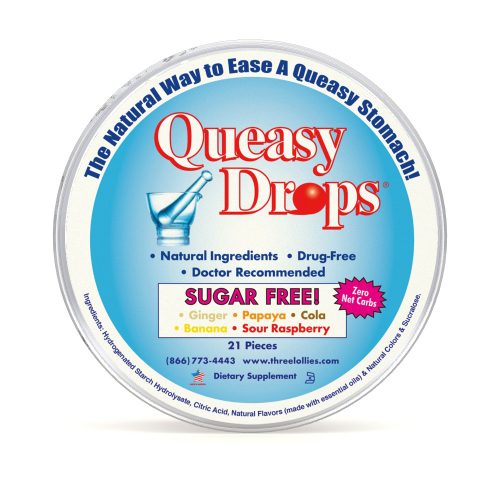 Ease Nausea & Support Breast Cancer
Queasy Drops Pink help fight Breast Cancer! This special pack was designed to honor and raise awareness for Breast Cancer. A percentage of each sale will support the STOP CANCER Marni Fund for breast cancer research.
These special pink breast cancer awareness Queasy Drops are infused with sour raspberry. Ease your nausea naturally, knowing that you are helping support a great cause. Say goodbye to a queasy, upset tummy while supporting breast cancer research.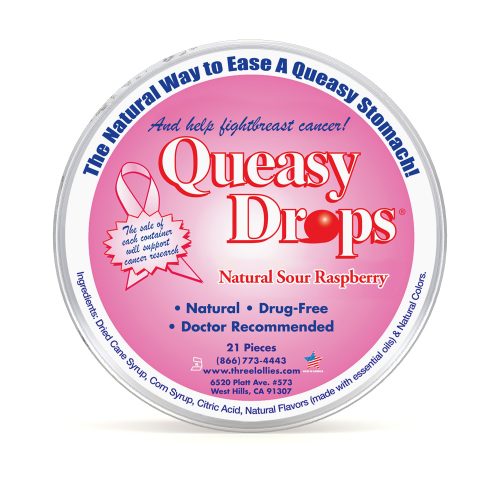 Queasy Drop Pops
12 Pieces
5 Flavors
Ginger, Sour Raspberry, Sour Lemon, Green Tea with Lemon, Cinnamon
Shop Online
We are privileged to work with many great retailers and chains to get you the nausea easing power you need. Shop online or find a store today.
Shop Locally
In addition to our major chain stores, we are also in your favorite Mom & Pop locations. Check our Store Finder to shop by Zip Code to find stores near you.
Discover More Three Lollies Products