June 23rd, 2021 | Blog, Pregnancy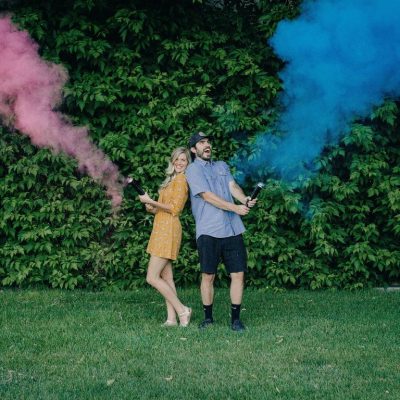 Gender reveal parties are not a new thing. Seeing your favorite celebrity announce the gender of their unborn child is exciting and may give you ideas for doing your own gender reveal in the next few months.
What is a Gender Reveal?
A gender-reveal party is a celebration expectant couples hold to reveal to friends and family the sex of their baby during pregnancy. The primary goal of this event is to "reveal" the baby's sex to the expectant parents, family, and friends. This is a tradition that seems to be something that is currently done in North America, as the idea hasn't caught on in other countries yet.
Many new parents question whether a gender reveal party is necessary. Technically, it is not a necessity, but it is a fun way to surprise your loved ones and it's a good excuse to have a party and get everyone together. Babies bring people together so why not celebrate and enjoy spending time with your family and friends.
What Do People Do at Gender Reveal Parties?
Couples try to come up with creative ways to announce the sex of their unborn baby. One popular idea is with colored balloons (pink and blue) with confetti inside the one that describes the baby.
Another idea is with pink or blue lollipops (Stork Pops) make the announcements "It's a girl, or It's a boy" in a fun and delightfully sweet way. These make great gifts for expectant moms or included in a gift basket. Each bag contains 14 pops in pink lemonade or blueberry.
Some couples have included their pets in their gender reveal announcements. One couple dressed their dog in a pink or blue t-shirt and had them come out at just the right moment. Everyone will be wondering and when the time is right and the "reveal" happens, family members will all be saying, "See I knew it was a girl…or boy."
After the reveal is over, there will be food like a dinner or dessert (cake and ice cream) served, and the adults sit around and catch up on what's been going on in their daily lives. The kids play games of catch or hide-and-seek while the adults talk. It's a fun time for everyone.
If you decide to follow this tradition and have a gender reveal party, there are many creative ways you can surprise your friends and family with the news. From colored balloons to lollipops, to t-shirts, it's a fun way to let everyone know if you're having a boy or a girl, so they know what to buy you for the baby shower.
Traditions like these are fun and give people an excuse to socialize and stay close. Even with the current events going on, you can still have get-togethers as long as you keep the groups small and everyone practices social distancing. Keeping everyone safe while having a good time is important for any occasion.