November 16th, 2022 | Holidays, New Mothers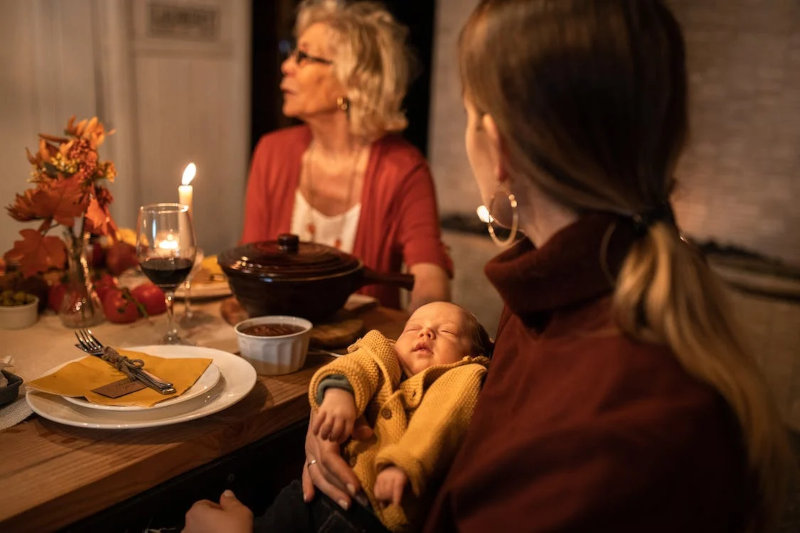 Making Your Baby's First Thanksgiving Memorable
Your newborn's first Thanksgiving is an exciting time. Sharing the holidays with your baby adds a layer of freshness and joy to your life as you share all your traditions with your new family. Navigating the holidays with a newborn can be difficult, but here are some things that you should do with your baby during their first Thanksgiving.
Thanksgiving Taste Test
Depending on the age of your newborn, Thanksgiving can be a fun time to have your baby taste test a variety of holiday foods. Many of the traditional Thanksgiving foods are perfect for your baby to try, as they don't require chewing and are difficult to choke on.
Mashed potatoes and gravy are a great place to start. Make sure that the food is no warmer than room temperature, and only give your baby small amounts just to taste. Avoid giving your baby foods that need to be chewed or that have too much seasoning. Jellied cranberry sauce is another great option. Be sure to not give your baby real cranberries, as they pose a great risk of choking. Small tastes of foods are okay, but make sure that you do not overdo it, as you can upset your child's stomach and even throw off their eating patterns.
Family Gatherings
Thanksgiving is all about bringing people together to enjoy a meal. If your family gathers for the holiday, it may be the first time that people in your family see your newborn. This can be an exciting time for the family, but there are some things you will want to keep in mind.
Remember that newborns are highly susceptible to sickness and disease that is often passed from physical touch. All of your extended family will be excited to see your newborn, but might require a gentle reminder not to kiss your baby anywhere on the head. Simply remind them of all the dangerous diseases that can be easily transmitted to your baby.
Family members might appreciate being able to hold your baby. It is always a good idea to take a few pictures of your newborn in the arms of family members to have as keepsakes for the future.
Christmas Card Photos
Thanksgiving can be a perfect time to take a family photo for your annual Christmas card. You and your newborn may already be in great outfits, so it is a great opportunity to snap a photo to send to all of your friends and loved ones for the holidays.
Even if you are not planning on sending out a Christmas card, or you do not celebrate the holiday, Thanksgiving is the perfect time of year for a family photo. Consider posing outside near all the spectacular fall foliage. Your baby's first Thanksgiving is a memorable time, and it is always a good idea to capture a few photos to display in your home or to keep as a keepsake as your child grows.