May 24th, 2023 | Cancer, Lifestyle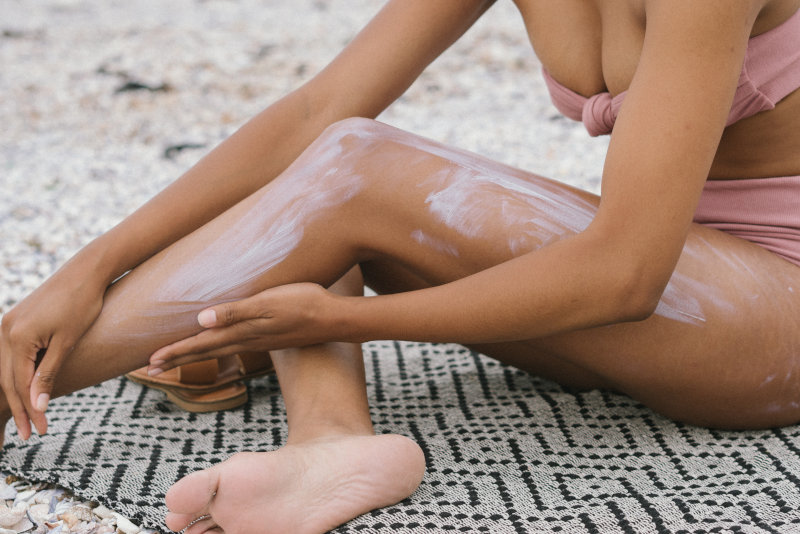 Pregnancy Summer Essentials – Skin Cancer Awareness Month
Skin Cancer Awareness Month is upon us! It is time to make the health of your skin a priority! There is a healthy and comprehensive way to protect yourself from the dangers of UV rays. Most people don't notice how sneaky it can be, since sitting in the sun for about 20 minutes can drain your energy and do some harm along the way!
The sun's rays can feel great at first, but they can have some long-term effects on the body – causing premature aging and contributing to skin cancer is only the tip of the iceberg. Additionally, the sun can penetrate through glass and clouds too, and bounce off of water, sand, and snow, therefore its exposure is almost constant. This is why you should often consider protecting yourself from the sun even when doing simple activities – going to the store, taking a stroll in a park, walking your dog or your baby, etc.
However, if you're pregnant during the summer, it's common to experience discomfort, especially from the heat. While it's always recommended to stay active up to the point you give birth, you should avoid going out while the UV index is high. That's why we want to show you our pregnancy summer essentials, so you and your baby can stay safe and healthy.
Some are more prone than others
You might be at a higher risk of experiencing some long-term damage from UV lights if you have the following:
A lot of freckles and light skin
Light eyes (blue or green)
Blond hair and an overall fair complexion
If you fall under any of these categories, consider using our pregnancy summer essentials on a daily basis.
Tips to prevent UV damage
As summer is fast approaching, we urge you to consider some pregnancy summer essentials that can contribute to your skin's optimal health. We have compiled a small list of tips you should memorize – these are the golden rules for everyone, especially for expecting women!
Having a constant shade – seeking out shade when the sun is at its peak can help you shield yourself from any damaging sun rays. If you are outside between 10 am and 4 pm, give yourself the appropriate shade. Remember, your entire body must be protected, and by doing so, you'll be preventing skin damage during pregnancy.
Choose your clothes carefully – select clothing that provides enough protection, such as long-sleeved and lightweight shirts, pants, and a wide hat too! Be mindful of every part of your body and ensure it is always protected.
Don't forget the eyes – the sun can be pretty bright, especially if you are near a large body of water or sand. It can do some damage to the vision, so as part of your pregnancy summer essentials, consider investing in sunglasses with UV protection to keep your sight happy and healthy!
Apply sunscreen – often! When you go outside, apply sunscreen on your face, neck, and body, even if it's cloudy. Use a sunscreen that has an SPF of 30 or higher. Many sunscreens can give you protection from both UVA and UVB rays. Do your research and invest in a quality product. Take the sunscreen wherever you go and reapply every two to three hours.
Keep your pregnant belly or newborn away from the sun at all times – use sunscreen on your belly and apply sunscreen on your baby (if they are over the age of six months). Also, make sure that your stroller can provide shade for your baby, all the while keeping a breathable environment.
Keep your body hydrated – don't forget to drink plenty of water! Keeping your body hydrated will help your skin fight better and harder against the sun's rays. We can help here! Consider our Preggie Hydration product, and don't let any of the damage from summer harm you!
We hope you've enjoyed our list of pregnancy summer essentials – to put it simply, don't expose yourself to the sun for too long, apply sunscreen constantly, and drink plenty of fluids. Additionally, check out our store, which will help during your summer pregnancy. Finally, scroll through the rest of our blogs for more helpful tips!