May 10th, 2017 | Blog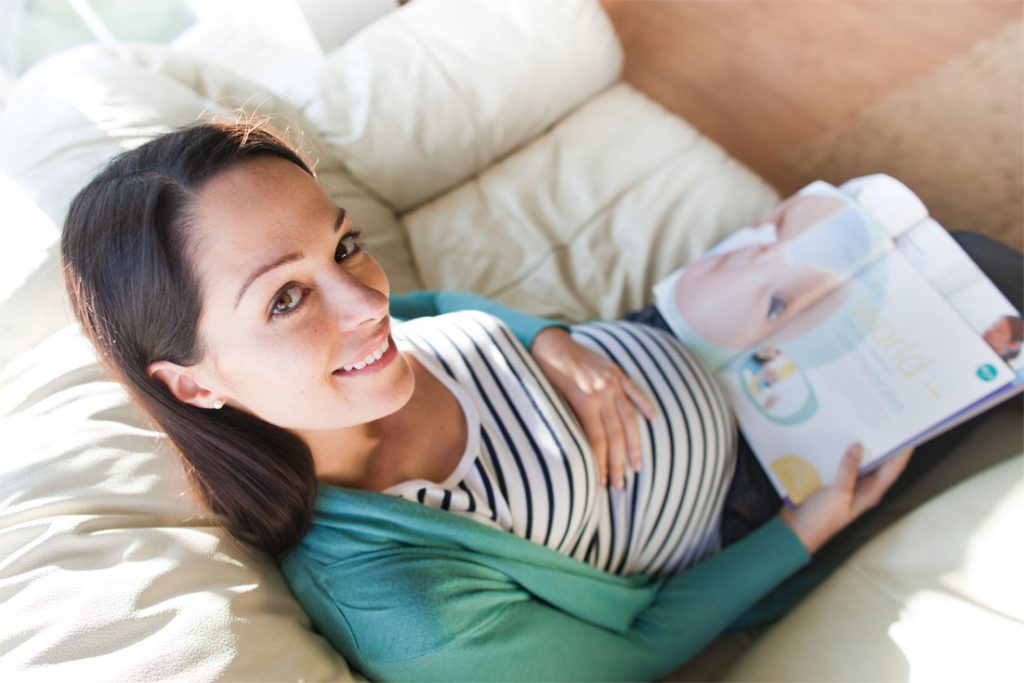 I remember visiting my in-laws "across the pond" in Europe when I took a pregnancy test. Within seconds the line showed positive. Clear as day!  "Babe, I'm pregnant!" I quietly told my husband so no one else would hear the news just yet. A big smile came over his face; this was a surprise for sure, but it was an exciting surprise.
There were many thoughts that ran through my mind after seeing the positive pregnancy test:
"I am going to have a baby! OMG. Omg!"
"Uh-oh, I had Champagne and wine for the last two weeks! Will my baby be okay?"
"How will my body change and feel?"
"I will be giving birth to a baby in 9 months!"
"I am anxious for my first doctor's appointment. Which doctor should I see?"
"We have to move out of our one room studio – we have no room for a baby!"
But the most important thought was: "From this moment on, I will be the healthiest I can be physically and emotionally for my baby."
After making this pledge to myself and my baby, I had the most blissful pregnancy. I never even got swollen feet even! I was wearing my Michael Kors over the calf boots up until my due date!
My baby boy was born strong and healthy lifting his own head up off my shoulder the very first day he was born.
So what's the secret?  Here are the top SEVEN secrets to how I had a healthy, blissful pregnancy (and healthy baby!):
TWO NOTES:  1) I am not a doctor and this is not medical advice. It's just me sharing my experience. Everything below was approved by my doctor, but always talk with your doctor first to be sure, and 2) I am not an affiliate to any of the products I recommend herein (I learned that last word while I was in college for Legal Studies and working as a Paralegal – hehe).
Secret #1 – Got Water?
Did you know what Kim and Kourtney Kardashian's top secret to a healthy pregnancy is?  Water!  A dear family friend who is a nutritionist told me at our gender reveal party to drink 100 ounces of water a day while pregnant. At the time I was drinking 65 ounces or so a day but I upped it 100 ounces a day – no matter what, I made sure I drank that much water.
It was quite easy for me, since I drank only water (and wine) before I got pregnant.  But even if you are not a water drinker, after making this routine it will be easier and easier for you. What I did was get one of those big 33.8 ounce Poland Spring water bottles and drank 3 per day – morning, day and evening. You can use the next size down (23.7 ounce) and have four per day to hit 100 ounces of water in total.
Because I drank so much water, I never had low fluid around the baby. It was always perfect.
Amniotic fluid:
"Protects your baby from being hurt if you have a blow to your tummy, or if your bump is squashed.
Helps your baby's lungs and digestive system to mature.
Protects your baby against infection." (SOURCE – BABY CENTER)
Secret #2 – Supergreens!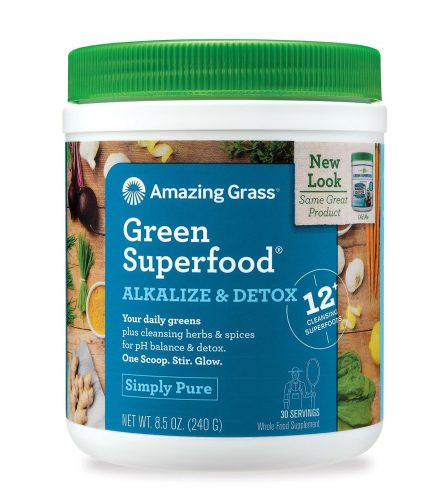 Every day I drank one scoop of Green Superfood by Amazing Grass mixed with a bit of water and some juice to make it taste better. Boy it's pretty "icky" (our word for yucky that we use with our one year old) if you drink with just water but the juice hides that taste.
They have many kinds to choose from, but I recommend the Amazing Grass® Green Superfood® Alkalize & Detox. I bought mine at Whole Foods (often on sale) but they also have this online. GNC has the cheapest price right now.
This stuff is AMAZING!  It cleanses your body of toxins, while balancing your body out and giving you energy. Plus, it helps with digestion (constipation is not a fun side effect of pregnancy). This helps a ton.

The primary purpose of this "daily detox" is to help achieve optimal bodily function for a healthy elimination of toxins.  And if it does this for a pregnant mama, then it will do this for her growing baby inside too!
Supports overall health and wellness
Supports detoxification functions
Includes a probiotic and enzyme blend to support digestive health
Helps achieve recommended daily servings of fruits and veggies
Secret #3 – Preggie Pops!
Morning sickness is no joke. Everyone hears of this, but you don't quite understand the caliber of morning sickness until you experience it. It's debilitating!  I was couch-bound and couldn't even work (I work from home and still was unable to sit at my computer to work).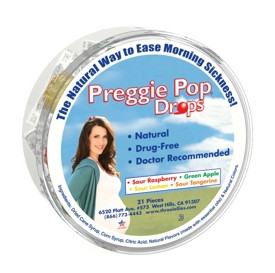 I am so grateful I found Preggie Pops!  We believe that our kitchen is the best pharmacy, so we do not take medicines much – rarely for the occasional, unbearable migraine and that's about it.  So I was thrilled to learn that Preggie Pops are all natural and drug-free.
These specially formulated lollipops and lozenges are a MUST for all pregnant women and make for the best baby shower gift.  I wish I had them on hand to begin with!
Preggie Pops offer quick relief to morning sickness via a combination of our special formula and a unique delivery system. In addition, Preggie Pops alleviate dry mouth, provide quick calories and energy during labor, and are an overall soothing and comforting way to address the needs of pregnant women.
I also love how Preggie Pops were formulated by healthcare professionals!  They also have Queasy Pops & Drops for motion sickness and nausea and Smoke Free Naturals to help you quit smoking in a safe, effective way.  I don't smoke, but if you smoke and become pregnant, it's time to flush that pack!
Secret #4 – Positive Thinking & Gratitude
I am a HUGE believer in the law of attraction (what you project is what you will attract in life) and giving gratitude every day which then allows you to attract more things to be grateful for.
It's common for pregnant women to wonder if they can handle being pregnant and especially handle the labor and even handle a new baby. Yes, yes and yes is the answer to all these common worries.
Instead of worrying about if the baby will be healthy or if your pregnancy will be good or if your labor will be easy, etc. replace this worry with positive thoughts of success and believe it to be true with every inch of your being and use what I call grateful intentions to attract a healthy pregnancy, labor/delivery and baby.
A grateful intention is something you are grateful for as if it already happened but it has not happened yet. The notion behind this is powerful. You feel as if it's true already and this is the result you will attract to become true.
From day one I said and believed every day:  "I am so grateful for my healthy, blissful pregnancy, amazing and easy labor/delivery and healthy, strong, smart, beautiful baby boy."
I erased all doubts and worry. Worrying and doubting things will hinder on what you truly want and could even attract exactly what you worry and doubt.
Law of attraction may be hard to understand but I know that it works since I have been using it for the last 10 years to go from rock bottom to million dollar entrepreneur. I even wrote a book about it!
So, eliminate all worry and doubt. You can and you will have a beautiful and blissful pregnancy, delivery and healthy baby.
Of course don't skip prenatal care and healthy living and rely solely on the law of attraction! This is just one piece of the pie J
Secret #5 – Clean Eating!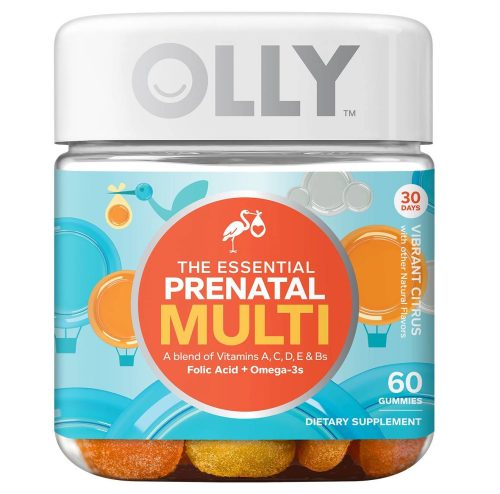 My entire pregnancy I chose to be mindful of what I put in my body – remember, everything we eat, the baby gets.  I did not take one sip of wine – even though some say it's okay, my doctor advised no wine (better to be safe). For food I ate organic as much as possible and fresh veggies, fruits, whole grains, lean proteins like chicken and fish, legumes and beans, and other superfoods (chia seeds, etc.).  I don't eat dairy much as it is but this is also healthy (yogurts, etc. ).
Don't forget a good prenatal vitamin! Be careful though, the prenatals I first took had lots of iron and I had bathroom problems (sorry to give TMI but it was an awful experience), so I switched to OLLY gummy prenatal vitamins. They are amazing! They even have postnatal and regular women's vitamins with supergreens (I take these now). Check your Target store for these because our Target has this in-store.
My weirdest cravings were:
Cut up peppers, cukes (this is how we say cucumbers), and tomatoes mixed with balsamic vinegar, olive oil and some sea salt.
PB&J on whole wheat bread (I ate natural peanut butter and organic/no added sugar jam)
Thai Food (yes, I ate Thai! I just ordered Pad Thai without the fresh bean sprouts as they say these are hard to clean and could have listeria lurking.)
So, not too crazy, huh?
Foods I avoided:
Hot dogs (even though I don't really eat hot dogs – maybe 1x a year)
Deli meats (the added preservatives and nitrates are not healthy for you or your baby) — NOTE: I actually was craving a turkey sandwich in the oven with melted cheese so I bought some deli turkey at whole foods and just made sure the meat was heated up.
All white tuna (I ate light tuna once every 2 weeks or so)
Processed / refined sugary foods
Foods with MSG and fast foods– most food at chain restaurants have MSG (Olive Garden, etc.)
Secret #6 – Positive Living!
Remember how I mentioned we are all made up of energy? Well the baby's energy feeds from our energy so staying positive is a must. Try not to worry or get upset. Avoid negative thinking, behavior, and arguing. Being mindful of your thoughts and actions takes some work at first for some, but with practice, positive living becomes automatic and a way of life.
Plus, once baby is here they can sense emotions so it's a great practice to carry on with. I am all about positive parenting!
Secret #7 – Connect with Baby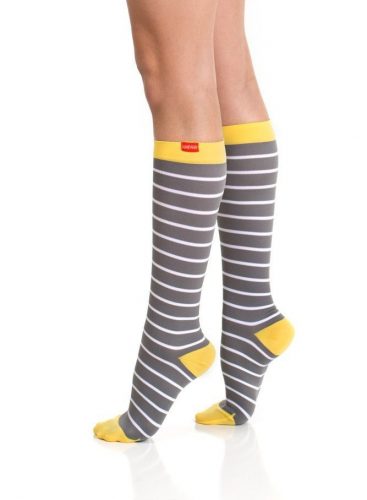 Mom and baby are connected well before baby arrives!  Talk and sing to your baby. Your baby can hear your voice among other sounds.
"Perhaps the most significant one a baby hears in utero is his mother's voice. Around the seventh and eighth month, a fetus's heart rate slows down slightly whenever his mother is speaking, indicating that mom's voice has a calming effect. By the time they're born, babies can actually recognize their mother's voice…there is no evidence that newborns show a similar preference for their father's or siblings' voices, or for any other voices they may have heard frequently while in the uterus." (SOURCE – PARENTING.COM)
I sang to my baby while we were in the car and papa (we call daddy "papa" in our home), talked to baby through my stomach and baby would even kick as a reaction – such a beautiful experience and memory – even a little freaky at times when it looks like your baby is reaching out through your stomach!
Thank you for taking the time to read this blog.  I loved every moment of being pregnant and by the way I flew on a plane three different times and never had any issues – I truly believe it's because of the above steps I took and the VIM & VIGR compression socks I wore. If you found this blog helpful – please share.
---
Guest Blog Written by Tasha Mayberry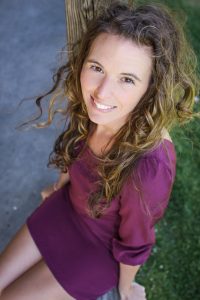 Tasha is a first time mom and owner / editor-in-chief of Best in Baby Biz & Kids Magazine, BIBB Magazine for short. BIBB Magazine is the fastest growing resource for modern moms, bloggers, press and retailers all in one and offers parenting tips, fashion, recipes, DIY, gift ideas and deals, a HUGE giveaway where one reader wins everything they see, and much more. Get your free issue here and enter for a chance to win dozens of gifts for baby and kids: www.bestinbabybiz.com/giveaway
Tasha is also the author of Dream Big Achieve Bigger: 7 Steps to Attract Anything You Want.