October 26th, 2022 | New Mothers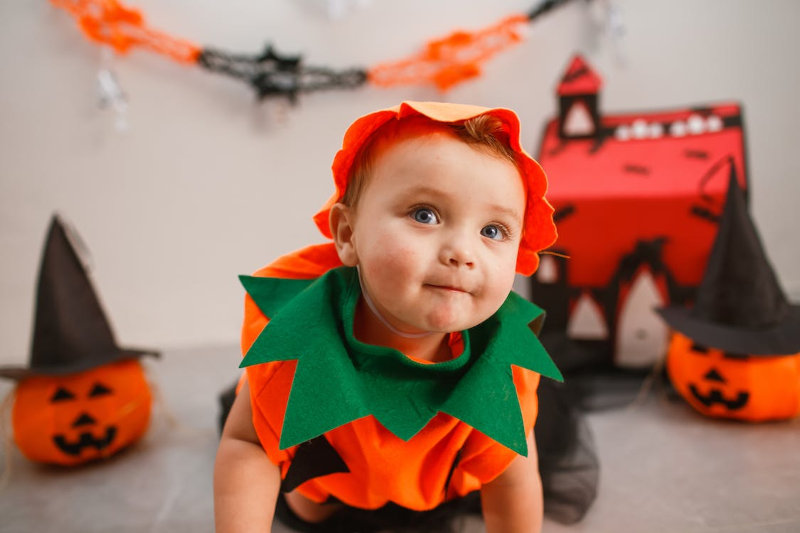 Make Your Baby's First Halloween Memorable
Holidays have a renewed sense of wonder when you get to experience it with your newborn. Halloween can be a fun time for your new family to get dressed up and celebrate new things with your baby. Here is what you can expect for your newborn's first Halloween.
A Cute Costume
Dressing your newborn up in a cute costume is a huge part of the fun for your newborn's first Halloween. Making memories of your child's first Halloween is important, and nothing is better than a great costume. Costumes designed for newborns are often comfortable and warm and are perfect for a cool October day. Your newborn will be the talk of every party they attend with a cute costume.
Fun Fall Photoshoots
Fall is perfect for newborn photoshoots. With the changing color of the leaves and pumpkins galore, a Halloween photoshoot is sure to deliver adorable pictures that you will want to keep for a lifetime. All the traditional Halloween and Fall activities are perfect places to capture memories with your newborn. Whether you visit the apple orchard or the pumpkin patch, your little pumpkin will look fantastic in a fall photoshoot.
Trick or Treating
Trick or treating can be a fun outing for your newborn, but there are some things you should keep in mind. Depending on your child's age, they may enjoy trick or treating for their first Halloween. However, children under the age of one should not be given candy. Small tastes may be okay, but it is advisable to keep candy out of the reach of your baby, no matter how much they may want it. Allergies are a big concern, and you would not want to put your child at risk for the sake of trying their first bite of Halloween candy within their first year.
Depending on where you live, the weather may not be suitable for babies during the end of October. Be cognizant of the temperatures before you decide to take your baby trick or treating. If your neighborhood sees a lot of people out for trick or treating, it could be fun to take your baby around to see all the fun costumes, decorations, and Halloween lights.
Visit your Local Zoo for Age-Appropriate Fun
There are not a lot of things for newborns to do during Halloween. Besides a cute costume and a trip around the neighborhood for trick or treating, most other activities are not appropriate for newborn babies. Most zoos across the country feature special Halloween programming that is perfect for newborns. Most of these activities allow your child to visit the zoo in costume, see all the animals and maybe even make a holiday keepsake. Halloween zoo activities can be tons of fun for the whole family and are a great way to include your newborn baby in Halloween activities. Some zoos even offer evening visits, so you can see all the decorations during twilight hours.