July 15th, 2020 | Blog, Pregnancy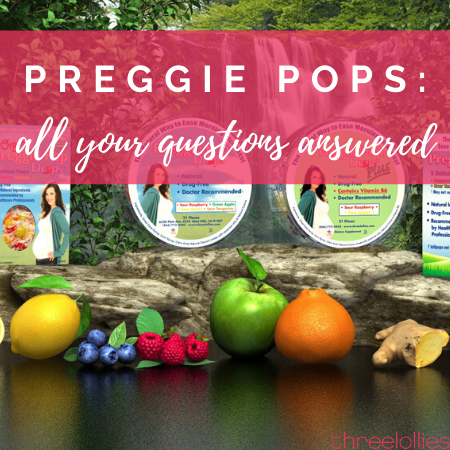 So, you're interested in learning more about Preggie Pops? Well, Mama, you are in the right place! Here at Three Lollies, our founders, Noni, RN, and Jim, MD, have poured their passion into creating an effective (and delicious!) line of products to bring you relief during pregnancy.
Preggie Pops and Drops are most popular for their nausea-fighting power, but that's not all they can do for you during pregnancy! Preggie Pops are also great for relieving a persistent dry mouth, giving a little energy boost, distracting from bad odors (you know that pregnancy super sense of smell you've got going on), and are great for when you're in labor.
Here I've compiled some of the most frequently asked questions into one guide to help you decide if Preggie Pops will help you! (Spoiler alert, I think they will!)
Read on, Mama! Let's learn more about Preggie Pops and Drops as well as our other pregnancy products here at Three Lollies.
What Are Preggie Pops and Preggie Pop Drops?
Preggie Pops and Drops are an all-natural hard candy especially formulated for treating morning sickness and nausea associated with pregnancy (although that's not all they can help with). These candies contain no artificial flavors, are all individually wrapped, and have been used and loved by mamas worldwide.
Preggie Pops are lollipops available in 7 different flavors, and Preggie Pop Drops are a lozenge-type hard candy available in sour fruit flavors.
Who are Preggie Pops for?
Preggie Pops are most often used by mamas who are suffering from pregnancy nausea. This might be first trimester morning sickness, persistent all-day sickness during pregnancy, or even mamas suffering from Hyperemesis Gravidarum (HG), a severe form of pregnancy nausea.
Beyond nausea, Preggie Pops can help:
Pregnant mamas looking for an all-natural energy boost during the day
Mamas with persistent dry mouth associated with pregnancy
Pregnant Mamas dealing with a super-sensitive sense of smell (Preggie Pops contain essential oils and have an aromatherapy effect––see more below)
Mamas looking for a natural option for energy during labor (Hard candies are often recommended for labor to beat dry mouth, distract, and provide a boost when you can't stomach much)
Mamas worried about nausea during labor (sometimes, women experience extreme nausea and/or vomiting during labor as a response to the pain, having some Preggie Pops on hand can really help)
Preggie Pops Ingredients?
All of the Preggie Products use all-natural ingredients and contain no artificial flavors or colors. They contain a blend of essential oils and botanicals both proven and known for their nausea fighting power. We turn towards herbs and essential oils such as ginger, citrus, lavender, and mint––which are all known for their ability to calm, soothe an upset stomach, stop nausea, and help during labor.
Our Preggie Pops, Drops, and Drops Plus all have brown rice syrup and/or dried cane syrup as a sweetener. However, we offer a sugar-free version that is sweetened with Splenda. These are perfect for mamas with gestational diabetes, or anyone looking for a sugar-free alternative.
Lastly, our Preggie Pop Drops Plus, contain 10mg of B6 in each drop. B6 is recommended by the American Academy of Family Physicians to combat pregnancy nausea (source).
Preggie Pops Ingredients:
Dried Cane Syrup
Corn Syrup
Citric Acid
Natural Flavors
Natural Colors
How Do Preggie Pops Work?
In short, the blend of botanicals and essential oils used in our products is what provides you with nausea-stopping power. What's more, the cane syrup and brown rice syrup are also important for fighting off morning sickness. Hypoglycemia (aka low blood sugar) does seem to be a contributing factor to morning sickness and pregnancy nausea for many women.
Preggie Pops also work because they are hard candy. Whether you're sucking on a drop or lollipop, the slow intake of nausea-fighting ingredients, combined with the aromatherapy effect, and quench of that dry-mouth, combine for maximum effectiveness.
If you opt for the Preggie Pop Drops Plus, the added 10mg of B6 packs an extra punch.
How Many Preggie Pops Can I Eat?
For our line of regular Preggie Pops and Drops, there is no set limit on how many you can use in a day. We recommend using them as needed. Remember to consider a healthy pregnancy diet when deciding how many may be too many for your unique situation and dietary needs. It's important to be aware that they do contain calories and sugar.
Is you are using our Preggie Pop Drops Plus, do not exceed more than six per day. This is because of the added vitamin B6. For Preggie Pop Drops Plus, you should take one drop as needed every 4+ hours without exceeding six in a 24-hour period.
Are Preggie Pops Safe?
Absolutely! There are no ingredients in Preggie Pops that make them unsafe for pregnant women. If you are concerned about added sugar, we've got a solution there, too.
Where to Buy Preggie Pops?
Preggie Pops are available in-store and online at most major retailers including Amazon, Walmart, Target, Walgreens, Meijer, GNC, so many others.
Check out our search tool to find a store with Preggie Pops near you or find an online retailer.
What Other Products Do You Have for Pregnant Mamas?
Preggie Pops: Individually wrapped lollipops available in seven different flavors: peppermint, ginger, sour lemon, sour tangerine, sour raspberry, lavender, spearmint
Preggie Pop Drops: Individually wrapped lozenges available in four flavors: sour raspberry, sour lemon, green apple, sour tangerine
Preggie Pop Drops Plus: Individually wrapped lozenges that contain vitamin B6, available in two flavors: sour lemon, sour raspberry
Sugar-Free Queasy Drops: The sugar-free version of our anti-nausea lozenges. These are sweetened with Splenda
Stork Pops: Fun, all-natural lollipops that are perfect for your gender reveal party or birth announcement. Available in blueberry and pink lemonade
Find and learn more about our full Preggie Product line here.
Looking to Learn More About Preggie Pops?
Well, Mama, that's everything you need to know to ease your mind and find relief via Preggie Pops! If your question hasn't been answered here, head on over to our official FAQs or feel free to contact us directly.
Here's to less nausea, more energy, and a joyful pregnancy!
By: Alli Wittbold